Hoyhoy.
Now the latest mod,,, Direct Port Water Meth injection to try & cool the intake down some.
The temps went down a bit, from 50 degrees-cel. above ambient to about 20 to 30.
But its early days with more development coming as I only finished installing @ 10pm last Thursday night, then drove to Sydney.
>
>
>
>
The tank itself is baffled to suit track purpose.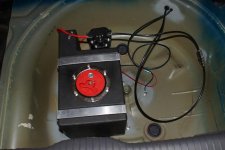 >
>
>
There is a nozzle after the intercooler that isn't a large one = 100cc/min. checked valved equipped.
>
>
>
The above nozzle is controlled via a Snow Performance Controller which can deliver using Injector Pulse Width or Boost or both in 1% increments.
In this pic. is the controller plus a switch & a light, which I'll explain down further.
>
>
>
The direct port nozzles are of the smallest nozzles in the world @ 25cc/min. & only available from one place. (USRT)
Other sellers will sell ya the multiple block & leave you to decide on what size nozzles to use which is usually the minimum of 60cc/min.
At present these nozzles are set up to fire up @ a later stage using a separate variable boost switch to operate a solenoid.
>
>
>
>
The epilogue of this post is that I'm only trying to use the tune available when tracking in fair dinkum cases & not just in happy cases.
The tune is staying @ the APR Ko4 tune which is adequate, unless I win Lotto.
The switch mentioned above is to turn "on" or "off" the whole system without any problems.
The light mentioned above just shows when the second stage Direct Port Nozzles start up.
All this can be disconnected & dismantled with out too much effort.
Last edited: